Healthcare SEO: We Have Your Prescription For Search Results
by Staff writer, on May 1, 2020 12:09:01 AM
Successful healthcare websites ensure proper communication and services to customers. They also aim to bring in more and more patients.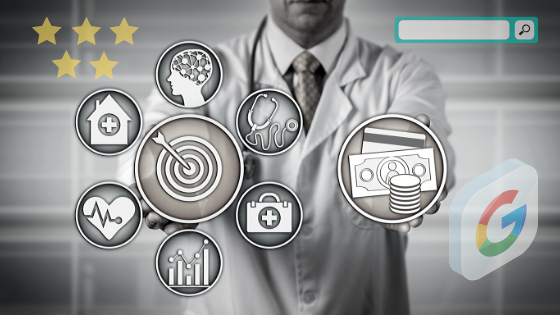 All this will, however, not be possible if patients are unable to find your website in search results.
To make your page visible to as many patients as possible, you will want to establish a strategic SEO marketing campaign.
You will want to have a good healthcare SEO strategy that will employ the best hacks and tactics for your site to rank. A strong SEO strategy asks for both time and money to work perfectly.
Ranking on the first page of Google is difficult. First page search results in SERPs are precious real estate for brands.
The top 5 search results are especially visible from their title tags and generate approximately 70% of traffic for a keyword.
You have to possess the relentless focus and intense efforts to be able to reach out to many patients.
Your SEO marketing campaign has to be fully dedicated to making your page appear first in various search engines.
You have to employ the right approach to SEO marketing to achieve the best SEO practices. Avoid black hat SEO methods as these will only punish your website.
Black hat SEO exploits search engine guidelines to boost rankings.
White hat SEO closely follows search engine guidelines to boost rankings.
Google algorithms keep changing, although this strategy may work in the short term, Google will eventually discover any unethical practices, and your site will be flagged. Follow these ranking hacks for your healthcare SEO strategy:
1. Quality Backlinks
Strive to gain high-quality backlinks from trusted websites. Google devalues links that have no value for the site. Be careful with the backlinks that link back to your website.
Black-hat SEO techniques could lead to penalties on your site when they link to your site. This will cause Google to put your website in the "sandbox" effectively banning it from your keyword.
Quality backlinks may be from any of the following properties:
· Infographics
· Guest posting
· Citations from local firms
· Podcasts
· Ebooks
· Videos etc.
You could also give your readers stories that are relatable to their daily lives. When you are able to solve your audience's problem with your content, you are sure to grow your backlinks naturally and rank high on search engines.
2. On-page optimization
This could be one area that could be difficult if you are not tech-savvy. This is where the help of a digital marketing company can help you. This remarkable hack involves enhancing the website structure to make it search engine friendly and user friendly too.
How can you achieve on-page optimization?
Optimize your website for "search intent"

Make sure your page loads FAST

Strategically place your target keyword in the title, meta description, and H1 tags

Use short descriptive URLs

Use descriptive alt tags for images (and optimize your image file names)

Keep your content simple and readable
Think of Google as the doctor selecting medicine (web pages) for a patient (top rankings for a particular search query). If your content isn't going to benefit your patient —i.e., happens to be what searchers are looking for—you won't even be in the race, let alone have the chance to win (rank #1).
Source: Wordstream
With on-page SEO hacks, no single factor can be overlooked. No one would want to stay at a slow site for more than a minute.
If your website's loading speed takes ages to open a window, then you can use a plugin to optimize page speed. This could be a reason you are not getting found by new patients and failing to rank in search results.
There are a number of Wordpress plugins that can help you optimize your website page speed.
WP Rocket

W3 Total Cache

WP Smush.it

LazyLoad by WP Rocket
Broken links will also lead away patients. To enhance your on-page SEO efforts, you need to identify and manage all the broken links. These are links that lead to a 404 or broken page on your site, and they could significantly affect your SEO strategy.
Google only wants to provide the best user experience and wants to avoid sending users to broken pages.
Here are FREE tools you can use to check for broken links on a website.
Screaming Frog SEO Spider

SEM Rush

Uber Suggest

Ahrefs
3. Local Search Marketing
According to official Google statements, more than 50 percent of search queries globally now come from mobile devices.
But we don't know whether the number is 51 percent or 60 percent, or if it varies significantly by country.
As you look to optimize local SEO, ensure that the site is mobile friendly. Patients can easily access your website and all the services offered via their mobile devices.
Local SEO is very crucial to healthcare practice to generate your income.
Your clinic must appear on the first page when a patient near your area searches hospitals near them. Strive to ensure that your contact information is correct and matches all the other places on the site.
Contact information should be consistent in local SEO as it assists Google to rank your page. Also, ensure you monitor your online reviews so that they do not affect your site rankings.
The number of online reviews and what is being said is very crucial to the growth or the downfall of your website.
4. Curate Original Content
It is no brainer that you should have original healthcare content on the site. If you want to stand out above the numerous competitors, make sure you have relevant and unique content that will benefit your patients.
By providing quality content to your readers, you are highlighting your expertise and value over time. That will, in turn, lead to higher rankings on the Google platform. Keeping you at the top of your patient's minds when they schedule their next appointment.
You could publish content like videos, blog posts, case studies, infographics, conversations on healthcare, interviews to add more value to the content you post on the website. Focus on trying to solve problems your patients may be dealing with.
For example, a dermatologist can recommend the best at-home skincare products to use before bed. Giving away information for free does not counteract people going to visit a doctor. People trust the opinion of a professional and if you prove to be a helpful resource in your patience eyes, they will trust your practice.
Also, make good use of the relevant keywords used by many patients in your area.
5. Competition Analysis
This strategy focuses on how the competitor is conducting his marketing practices. You could then enhance these strategies and improve them to have more effective ones. Competitor analysis cannot be said to be copying.
When you copy, you use the exact methodology and techniques. But with this strategy, you are analyzing what the competitor is doing and changing the plan to produce a more efficient approach.
Competitor analysis can be achieved with the help of specific tools. Such an appliance could be:
BuiltWith.

WooRank.

Google AdWords Keyword Planner.

SEMrush.

SpyFu.

Ahrefs Backlink Explorer.

Quick Search.
These tools will show you the strategies that are working for your competitors. So, you will be able to determine whether to focus on blogs, ads, or directories and whether it has worked for them.
With all this information, you will be able to formulate a strategic SEO plan to rank your site.
For example, if the local SEO works well for them, you can create a better strategy and outrank them in search results.
6. Off-Page SEO Technique
Off-page SEO is the technique used by websites in ranking the site. They are the activities you perform outside your website to assist with ranking the page.
For your healthcare website, you could consider some of the following strategies:
· Blog articles
· Press releases
· Citations
· Link building
· Online reviews sites
Bottom Line
Healthcare SEO strategies have never been this easy if you use the right tools. Apply the hacks above, and in no time, your website will rank high on search engines, thereby bringing you more patients and increasing your revenue.