Content Marketing: Make Your Content Work For You
by Delphia Debra, on May 21, 2020 8:06:49 PM
In the past, businesses that took advantage of the internet had it easy. You could promote your content, build authority, and gain an audience without much competition. Promoting your content wasn't a requirement for content marketing.

However, the world has long moved on from that.
Today, so many companies in every industry push out
blog posts
videos
eBooks
webinars
According to WordPress statistics, users produce more than 70 million new posts each month. Research showed that almost 2.75 million posts are published each day on WordPress alone.
WHAT DOES THIS MEAN FOR YOUR CONTENT?
While you know that you need to produce high-quality content and build up your online presence, you need to realize that hundreds of companies and business owners are doing the same today, competing for your audience's attention.
For your content marketing to succeed in the face of this ever-growing competition, it's essential to know that creating lots of unique and high-quality content like nothing else on the web won't do much for you without content promotion.
WHAT IS CONTENT PROMOTION
Content promotion refers to the process of distributing your resources such as blog posts, videos, webinars eBooks, etc. through both organic and paid channels, to reach the largest appropriate audience.
To achieve this, there are different tactics you can adopt.
CONTENT MARKETING
Content marketing is a marketing approach focused on the creation and distribution of valuable, relevant, and consistent content to attract and retain a clearly defined audience, and eventually, drive profitable customer actions.
There are various forms of marketing and advertising out there, from people trying to sell stuff.
However, what will separate your content from theirs is the value you offer. The emphasis in the definition is on the word "Valuable."
People avoid content that does not offer any value to them. So instead of just pitching your products and services, provide contents that are valuable and relevant to your prospects to help solve their problems.
Content marketing should be a part of your approach, regardless of the marketing strategies you employ.
SOCIAL MEDIA MARKETING
Social media is one obvious place to turn to for content promotion. Social media marketing refers to the use of social media platforms to engage with your target audience, build your brand, drive traffic to your site, and increase sales.
It involves publishing great content on your social media platforms, connecting with your audience, analyzing results, and running social media advertisements.
However, to make the most of social media marketing, you need a large and reliable following. You'll only get a click here and there. You also need to spend time on social media to build relationships and grow your influence.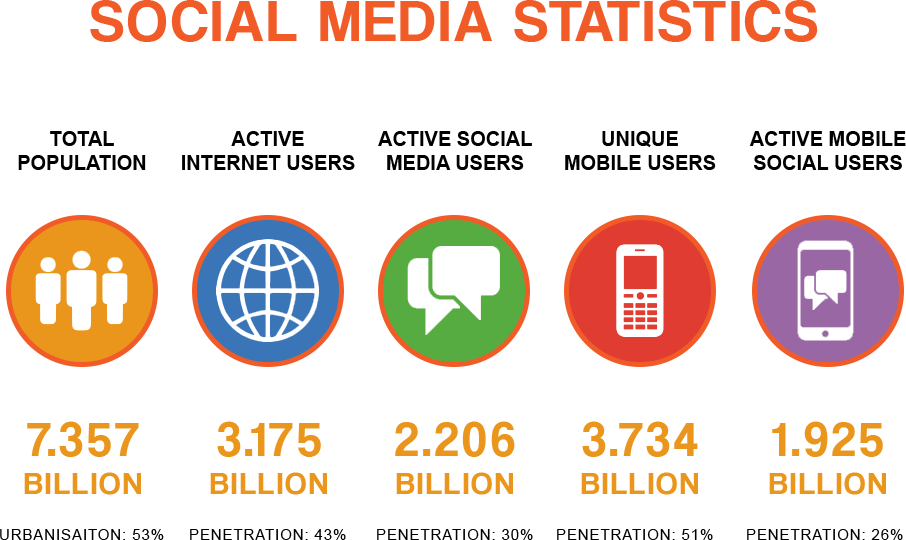 Source: ascolsystemsolution.com
INFLUENCER MARKETING
Influencer marketing is a form of marking that takes the idea of celebrity endorsement, but this time, there is a collaboration between brands and influencers who may not really be popular in an offline setting.
Within any industry, there are influential people. And unlike celebrities, they can be anyone, anywhere. An influencer can be a respected marketing executive on LinkedIn or even a popular fashion photographer on Instagram.
Influencers have a large following in a particular niche who they constantly engage with and so are capable of affecting their purchasing decision as a result of their position and relationship with their audience.
GUEST POSTING
Guest posting refers to the process of creating your content and publishing on another website or blog. It is a great way to expand your web reach and get your name out to a new audience.
Guest posting requires lots of work. You have to create high-quality content, usually for free, for someone else's blog.
However, guest posting pays off over time. The host blogger must include a backlink, either at the beginning, or the end of your content, linking to your own website or blog. Over time, they will raise the value of your website to search engines so that your content will be easier to find on Google, Bing, Yahoo, and others.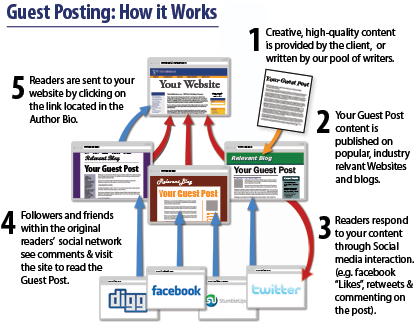 Source: Zak Johnson
PODCASTS
The idea of podcasts as a content promotion strategy is growing. It is fast becoming a marketing channel because of the many people already hooked on the medium, plus its expected growth. Many self-employed, organizations, and companies have been turning to prospects with this medium in an open-minded way.
Podcasts offer an opportunity to build authority, brand recognition, and trust among prospects through conversations related to specific industries. The podcaster, as a result of the credibility he has built in his niche, can get the word out about his brand to the number of people listening, who may have never heard about it before.
GUEST SPEAKING
No one knows your business more than you do, and that makes you an expert in the field. Sharing what you know through guests speaking in a public platform can help you reach a new audience, expand your network of contacts, promote your business, and attract new customers.
Look out for events with the type of audience you want, contact the organizers, and pitch them your topic. While choosing a topic, pick a topic that is relevant and valuable to your audience yet related to your business. Tell them how it will benefit their audience, as well as how long you have been in the business to establish your credibility.
To be successful as a guest speaker, your message should have an impact on your audience, to make them want to work with you again. However, do not focus the speech on your business, but make sure to mention it to attract audience members who could use your services.
EMAIL MARKETING
Email marketing is one of the best tactics you can use to promote your content. When it comes to returns, email marketing consistently outperforms other newer channels. In fact, for the past ten years, email marketing has produced the highest ROI of any marketing channel.
For email marketing to be effective, the first thing to do is to build an email list. The strength of your content and your other promotion tactics will help you do this.
To build your list, you may want to include an email sign up box on each page of your website, put your most valuable content behind a sign-up form, offer discounts or specials for signing up, or provide options to receive emails about deals or educational contents.
Once your prospects opt to receive marketing emails from you, you have the best tool to keep the relationship going.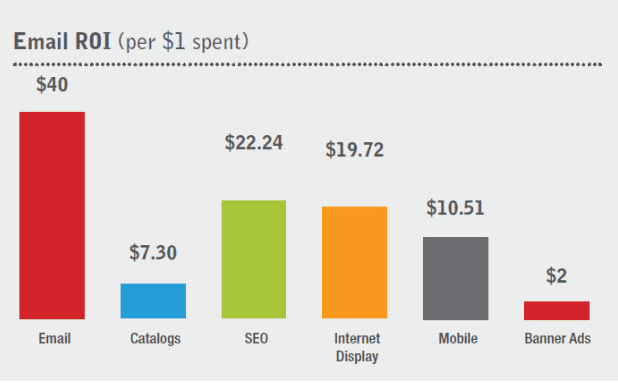 Source: Smart Insights
PRESS RELEASE
In addition to all the other content promotion strategies you can adopt, a press release is another great way to get the word out about your business and bury negative search results. It offers an opportunity to build relationships with journalists or influencers in your industry and also reach a new audience.
Firstly, you need to decide on your goals for the press release, which may be to drive traffic to your website and to increase sales. Then, secondly, decide on the press release format to use, which may be a little different for content marketing promotion.
After creating your press release, decide where you want to distribute it, then measure results afterward.
Free Content Marketing Tools
For your content marketing to be effective, building your online reputation and promoting your content is essential.
Here are 10 free tools to help you promote your contents online.
Followermonk
Slideshare
Tweroid
Bizsugar
LinkedIn Groups
Feedly
Click to tweet
Buffer
Feedpress
Hemingway App
FINAL THOUGHTS
Your content marketing won't achieve much if people don't see it. All the promotion strategies discussed here are there for you to utilize for the success of your marketing campaign.
Start using content promotion tactics to increase your online presence. You may not need to use all of them, but a mix of them will help you in promoting your content to the largest appropriate audience. Find the options that make the most sense for your product and services and decide how to put them to use.